'Locals' art project with Katy Bentall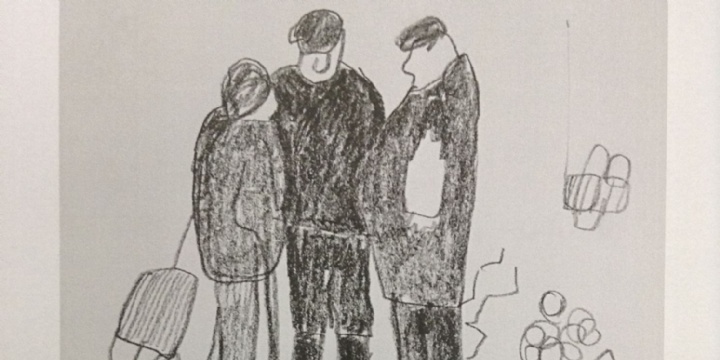 In February 2020, we welcomed back Katy Bentall following the previous year's success of her project 'Faces'. This year, we focussed on what it means to be local. The children worked in mixed ages and created their own pop-up exhibition of their artwork in the village hall.
Miss Rowe interviewed Katy about the project....
About the 'Locals' Project
Interview with artist Katy Bentall
Where did the idea for the 'Locals' project come from?
This is a piece of work which I have been constructing in my studio in Dobre, a village in Poland. It's about the relationship with the environment and people there. I first met 'Pear Man' at the market in Kazimierz-dolmy, a close-by town. I've been buying pears from him for twenty years and recently I started drawing him. He is a familiar part of my everyday life, yet I don't know him. And he doesn't know me. I started to think about how we 'know' a lot of people without really knowing them and I began to characterise and write the stories of people local to me. It is partly imagination and partly what I know. Artists don't always tell the truth!
You travel a lot between Poland and the UK, how has this influenced your work?
I draw and write every day and these characters evolve in my sketchbook. It is very important for artists, and writers, to observe the world around them. At the Sunday market in Felixstowe I wanted to buy ribbon and went to a shop called Botchett and Leggitt. Here I found 'Ribbon Lady'. She owns the haberdashery and I quickly began to imagine her life through objects in her shop and snippets of conversation I shared with her.
Why did you want to work with Occold Primary School on this project?
My drawings begin with real people but become like fairy tale characters. I wanted to see who the children notice in their own lives – their own 'locals'. This project follows on from last year when we created an exhibition of each other's portraits and this time we're moving out into the children's environment.