Book Festival 2022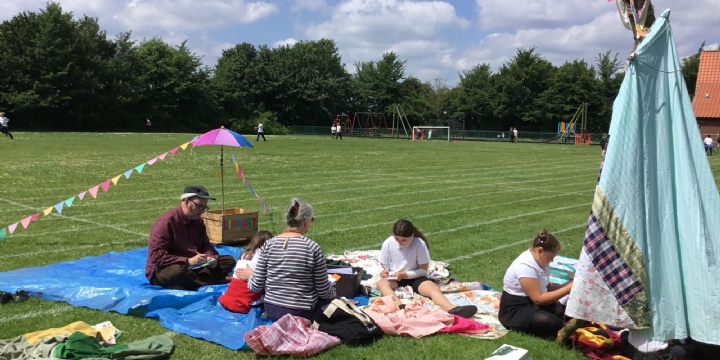 Yay! The return of our Book Festival after a three year wait (covid!)
The whole school enjoyed spending a bookish week together in June 2022. We had waited three long years since we could last have one and we came back with a bang! Children from Fox Class formed 'festival teams' and helped with the running of the week.
We opened the festival with a toast and book tasting event for children. While children in EYFS and Key Stage 1 enjoyed a David McKee treasure hunt and made their own giant elephant book, Key Stage 2 were treated to a virtual visit from author Ally Sherrick.
Day 2 brought the wonderful Dean Parkin to school to work with the whole school together and in smaller workshops. Everyone helped to write a collaborative poem which Dean later performed on BBC Radio Suffolk. The afternoon brought a nail-biting competition - Book Mastermind. Congratulations to our joint winners Esther (Year 5) and Nova (Year 2) and our runner-up, Charlie (Year 3).
Day 3 included a trip to Eye Library for Rabbit and Hedgehog class and local author/illustrator Dorien Brouwers joined each class for workshops throughout the day, inspiring us all with her magical picture books.
On day 4, Fox Class visited the library at Hartismere High School, where they had a treasure hunt to solve. The younger children celebrated the life and work of Shirley Hughes by doing watercolour drawings of cuddly toys, just like Dogger. It was great to be joined by families in the afternoon on the field for a big read-a-thon and a chance to show off our collaborative story making machine.
The festival culminated in a family reading cafe on Friday afternoon. Diss Publishing bookshop brought a fantastic travelling bookshop and children enjoyed spending their pocket money. Dorien Brouwers returned to school to sign copies of her book.
Each class enjoyed opening three 'festival reads' throughout the week - books carefully selected for each class by our resident bookworm, Miss Rowe. Families were encouraged to join us for different activities each day, including; launching the platinum jubilee read-together, a writing workshop especially for adults, Book Mastermind, the read-a-thon and a reading café. At lunchtimes, a mini library on wheels and a teepee filled with Writing Club activities were popular on the field. Congratulations to Ruby, Izzy and Seth who won this year's bookmark design competition.
What a busy week!
You can read more about the week in school by looking at the scrapbook produced by our Year 5/6 festival media team.