Celebration at Snape Maltings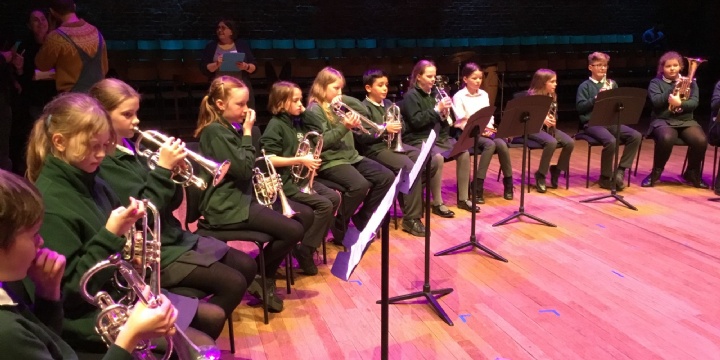 On Wednesday 8th March, Fox Class visited Snape Maltings to perform as part of the Suffolk schools' Celebration concert.
Year 5 and 6 have been rehearsing with their brass teacher, Mrs Ryan, for the past few months in order to prepare for a big performance at Snape Maltings. The Celebration performances run across one week and feature lots of different schools and over 1,200 children from Suffolk performing a range of musical compositions.
The children arrived in the afternoon and had a technical rehearsal on stage, followed by a workshop and group rehearsal with other schools for the finale piece. The workshop and finale piece was led by the composer of this year's song, Charlotte Harding, who wrote the beautiful song 'Me'.
Fox Class prepared a brass performance which saw them playing an opening piece, followed by a display of the technical aspects of music which they have been learning about. They used the well known tune of Hot Cross Buns to show how tempo, dynamics and tonality can alter how a piece of music sounds.
The presenter of the evening's show also interviewed Alina and Tony about playing brass instruments - they were fantastic, well done!
It is a huge concert hall and stage at Snape Maltings and everyone in Fox Class was very brave to perform in front of such a large audience. They certainly made us very all very proud at school.