Reading for Pleasure Award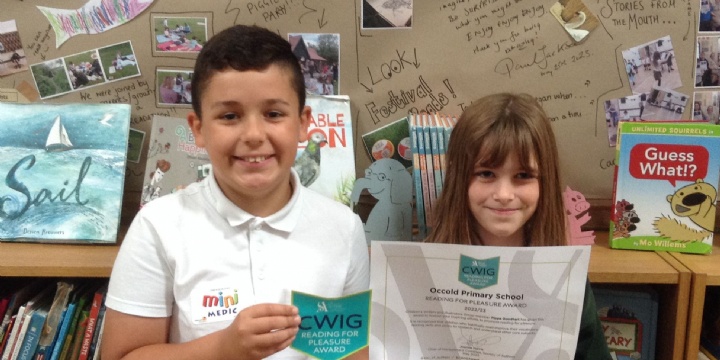 We are delighted to announce that a recent visit from children's author, Pippa Goodhart, has resulted in a special Reading for Pleasure Award for our school.
The Society of Authors and Children's Writers and Illustrators Group (CWIG) are a trade union of professional authors who regularly visit schools across the country, delivering talks and workshops. They, like we do at Occold, believe that reading is the core skill that liberates all aspects of education. Therefore, they have established an award scheme that allows individual authors to celebrate schools for their excellence.
During our Book Festival week, Pippa Goodhart visited Occold and was so inspired by our commitment to reading for pleasure that she put us forward for an award with the following citation:
Occold Primary School loves reading and books. A small village school, they have a library, books in every classroom and a whole week of every school year focussed on books with their Book Festival. That festival week is full of book fun and book interest, with visits from writers and illustrators and storytellers. But with children happily working on stories and reports and illustrations of their own, along with book quizzes and surprises and treats. It is clear that both adults and children in the school 'read for pleasure' as well as for work. Well done, Occold Primary School.
Thank you Pippa, we are very excited to receive this award and to be recognised for our love of reading. It was a pleasure hosting you in our school and your visit was inspirational for both the children and adults.
You can find out more about the Reading for Pleasure Award here:
https://www2.societyofauthors.org/communities/childrens-writers-illustrators/reading-for-pleasure-award/#:~:text=The%20award%2C%20which%20is%20given,dedication%20hasn't%20gone%20unnoticed.