Poetry By Heart 2023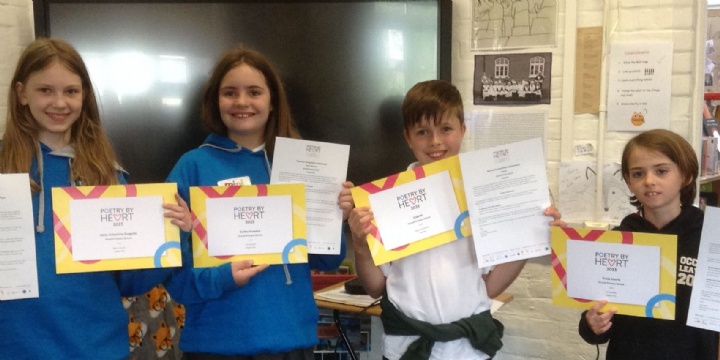 Fantastic feedback from Poetry By Heart for our four Occold winners who entered the national competition.
We were thrilled to receive certificates and personalised feedback this week from the national Poetry By Heart judges.
Alina achieved 'Best in County' for her performances of The Sleepy Giant by Charles E. Carryl and How to Cut a Pomegranate by Imtiaz Dharker. The judges commented that she spoke her poem 'thoughtfully and at a clear and measured pace' and gave a 'committed and thoughtful performance'.
Esther received 'Commended' for her performances of Some One by Walter de la Mare and The Book by Michael Rosen. The judges commented that Esther gave an 'enthusiastic and expressive performance' and that she poured 'a lot of energy into her performance'.
Gabriel received 'Highly Commended' for his performance of The Boneyard Rap by Wes Magee, with the judges citing that he showed 'perfect rhythm, beautifully voiced and great woooo-ing!'
Trixie achieved 'Commended' for her performances of An Emerald is as Green as Grass by Christina Rossetti and Comet by Kate Wakeling. The judges said they 'loved how you launch into the performance with a lot of thought and enthusiasm and how you slow down to create impact at the ending of the poem.' They also said they liked her 'bright energy'.
Congratulations, we are so proud of all of you.