Book Festival 2023
Welcome to the official media team page for this year's Book Festival.
Esther, Tony, Amber, Alina, Alice and Leah will bring you all the latest news and photos from the festival.
---
Monday 22nd May
Toast and Book Tasting
Reporter: Esther Howard
Today is the Toast and Book tasting event. This event is the first one of the book festival week 2023.
This Morning, we will be eating toast with some nice jam and marmalade topping and will sit and enjoy books together. Yum Yum!
Oh Look! There's Mrs Weatherly! She's showing children "The Tales of Peter Rabbit" and They all look Really engrossed in the story.
Look over there! It's Miss Rowe. She's showing one of her favourite books, it's called, " Feast your eyes on FOOD!" - some of the things in that book look really Yummy!
Miss Jeni has a Huge pile of books! From "Apple Bear" to "The Murderer's Ape"
And there's some independent readers. Some of them are reading " Elephant and Piggie" by Mo Willems Books and the "Rainbow Grey" books By Laura Ellen Anderson.
Mrs Anderson is reading the "You Choose Fairy Tales" by Pippa Goodhart and one of the "Mr Penguin" Books, by Alex. T. Smith!
Nearby, there's Nanny Sheila and a small group of people and they are talking about their favourite books. Some of the favourite books are… " The Tiger Who Came to Tea" (By Judith Kerr) , " The Snake Who Came to Stay" (By Julia Donaldson) and the "Amelia Fang" Series (By Laura Ellen Anderson).
Mrs Squirrell is reading some very interesting books! It looks like all of the people around them are enjoying it!
There's Mrs Goddard with the Brilliant Books of " Oh No George!" by Chris Haughton and "Aunt Amelia" by Rebecca Cobb.
Look Over there! There are so many happy faces, some with jam on them!, reading books. They include…Mrs Winterbottom who is reading " The day the clocks stopped" By William Gelard to a small group of Rabbits and Hedgehogs. There is Mrs Chittock who is reading "Peepo" By Janet and Alan Alburg! - it's a brilliant book!
It's Brilliant Reading! And I can't wait for next year's Book and Toast Tasting! Can't you?
Dorien Brouwers
Reporter: Alina Voloshina-Suggate
When I walked into the classroom Dorien Brouwers was talking to Rabbits and Hedgehogs about how books get printed. She showed a video of a machine that prints pages of a book. Apparently, at top speed, the machine can print 90,000 per hour. All the children were amazed.
Next she talked about the illustrations inside a book and out. She was talking about how to display the adventure of a book in drawings/paintings. Dorien showed us one of her books called Sail. She said how at the start of her book the sea was calm, then in the middle of the book the sea was rough and feisty, then at the end the sea is calm again. Dorien then told the children the activity that she had in store from them. They had to go and paint a picture of the sea, and gave them freedom to do the top of the sea, under the sea, they could do a front cover, anything really, but it had to do with the sea. All the children got engrossed in their work and I could tell that they enjoyed it very much.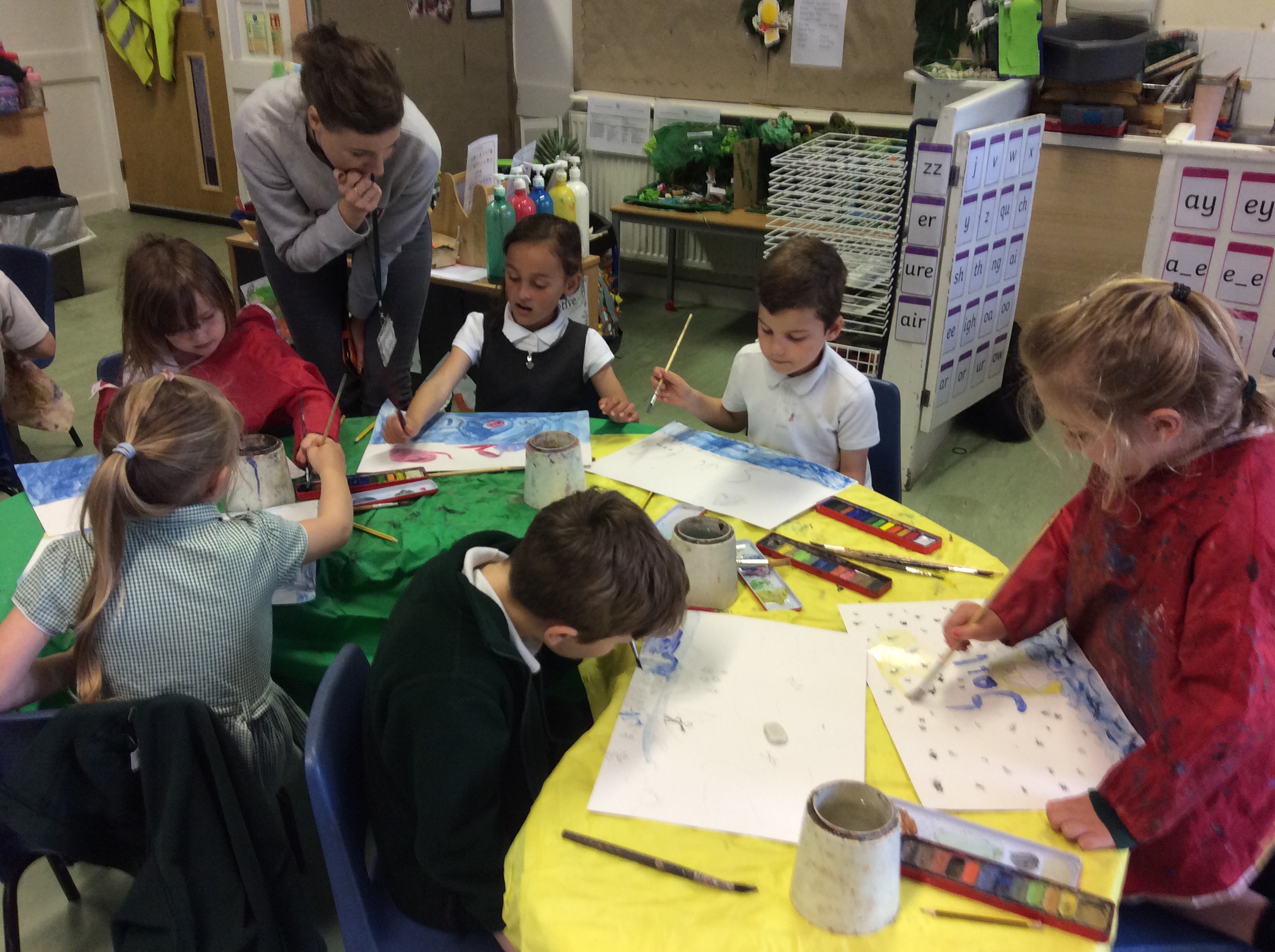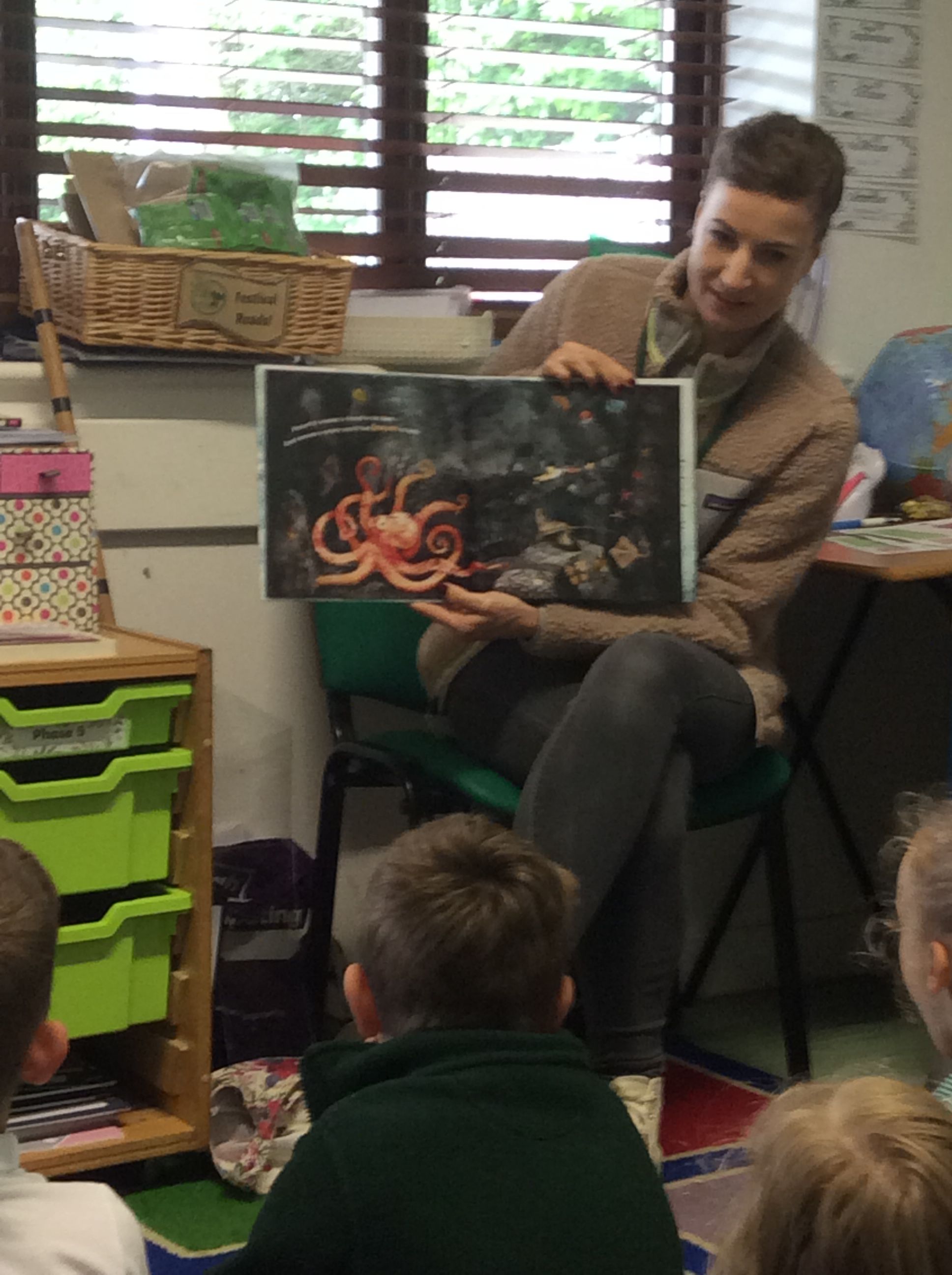 Illustration Workshop with Miss Jeni
Reporter: Alice Baynes
Miss Jeni talked through the different illustrators and how their drawings make them different. How some illustrators draw realistically and some non-realistic and how some draw in a cartoon style.
Miss Jeni has a book that Quentin Blake has written and it shows his drawings. Miss Jeni printed some of Quentin's illustrations from his book and handed them out so the children could add their own drawings. Later, they illustrated a range of different poems in their own style of illustration. The children really enjoyed the drawing event with Miss Jeni.
Kel Winser
Reporters: Alice Baynes and Alina Voloshina-Suggate
Kel Winser is a cartoon illustrator. He has illustrated 5 books (the BookLife Graphic Readers series) and he is currently working on his 6th. One of the first things he said to us was 'I like to write with pictures.'
Kel set up an activity for us where we were given some envelopes with some random photographs and we had to make up a comic out of them. Everyone's ideas were different and very imaginative.
While that was happening, we asked Kel how he does his drawings; he does it on an Ipad most of the time. If he's drawing characters, then he starts with the outline of the character. It will be a faint line but still visible. Then, he goes over with a matte black. He deletes the faint outline that he did before. He will next add colour. The colour really makes it pop.
Kel went around the classroom and listened to everyone's story (if they wanted to share it).
Near the end of the day, just before Kel had to leave, he asked everyone if they had any questions.
Someone asked, do you have a tip for drawing? 'Practice!' he said.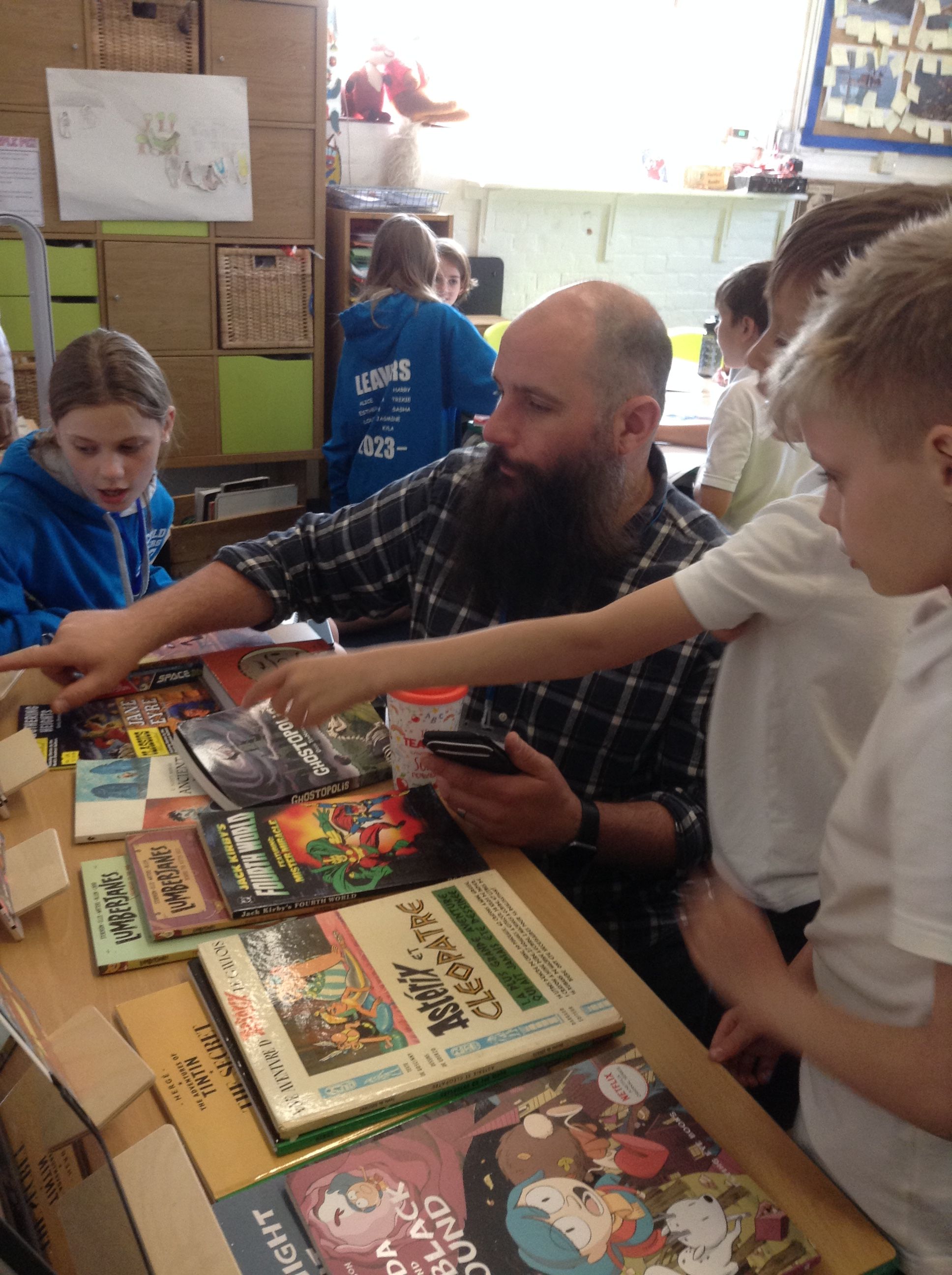 Occold Village in Watercolour
Reporters: Esther Howard and Amber Webb
We visited the Burrow with Rabbits and Hedgehogs who were painting a large picture map of Occold. After being inspired by Dorien Brouwers' use of watercolours, Key Stage 1 created drawings of the buildings in Occold. First, they drew the outline of a building in Occold and made it detailed, then they swapped the pictures with each other so that they could add more detail. They painted it carefully and they drew it very neatly. The teachers were very impressed because they cracked on. They had their heads down, focussing, the whole time. They were painting it the exact same as the pictures - it's hard to tell the difference between the pictures and the photos!
All of the children had a great time and had so much fun painting. Each person painted at least one house and they all looked great.
The Children used the watercolour paints which are great paints for this project.
I think Occold is looking super and everyone has done such a great job.
It is clear that all of the houses are brilliant but a few caught my eye. Some of which the artist has taken the time to paint each stone on a driveway and have copied it perfectly from the picture provided. Some have been so careful and efficient that they have completed more than one painting.
Tuesday 23rd May
Pippa Goodhart
Reporter: Esther Howard, Alice Baynes and Alina Voloshina-Suggate
After the whole school assembly, Pippa Goodhart delivered individual workshops with the classes. Pippa told us about her life when she was our age. She also told us about the journey to becoming an author. Here is her Story…
At the age of 16, Pippa cycled to Cambridge and asked some shops if they would like a person to work on Saturdays. One Bookshop called Heffer's Bookshop interviewed her and it turned out that Pippa had the job! From then Pippa worked her way up the ladder from a Saturday girl to the manager of Heffer's Bookshop! - how fantastic!
Pippa Goodhart also told us how much time and effort it takes to make and publish a book. She even showed everyone one of the first stories she wrote for a competition. The competition had to have 25,000 words! Wow!
Pippa Goodhart has written 140 books and continues to write them (one book coming out soon!). One of Pippa's books was based on one of the ones Pippa's mother wrote, called "Sammy's Adventure"! And… that book is published for the Oxford Owl children's books. One of the books Foxes are currently reading is "The Great sea dragon discovery" by Pippa Goodhart!
Pippa read a passage from one of her books called "A dog called Flow". It was really good and the whole room was engrossed in Pippa's reading. Pippa Goodhart also talked about her picture book "You choose" and how she got her illustrator (Nick Sharratt) on board.
Did You Know that there are about 8 or 9 publishers that rejected Pippa's "You Choose" Book because they thought it didn't tell a story. Continuing on the subject of "You Choose", Nick Sharratt drew a whole machine (on a whole double page) and it was made out of all different machines. Pippa asked us what we thought it would produce? "A Pizza that if you put it over your head, you would teleport!" or "It could make Solid air that could be used in space!"
Some People asked…
Why did you publish the Winnie the witch books not in your name?
Because there was an Australian lady called Valerie Thomas who wrote an original Winnie the witch picture book and she was asked if she would write longer Winnie the Witch books but she said no. They asked Pippa Goodhart if she would do it and Valerie asked her if she would publish it under a different name. Pippa never knew why! - how weird!
Later on… Pippa Goodhart read a book she made for a publisher to be matched with an Iranian illustrator. The book is called, "A Bottle of happiness!"
One of the Otter class pupils asked Pippa, "How do you publish books?"
Pippa said, "Well I don't actually publish them, I write the stories and I send them off to my agent, they look at and edit them if they need it and the agent tries to send it to a publisher but if the publisher says no then they will try another publisher."
Did you know that over 2 million You choose copies have been sold and there are only 12 sentences in the book and it was written in one afternoon? WOW!
Pippa read one of her own books to the Rabbits and Hedgehogs. It was a lovely story called Chapatti Moon about a girl who made a chapatti and it ran away so the girl had to chase after but eventually, it became the moon in the sky.
Pippa then talked about the You Choose books. The You Choose books are some very popular books where it will say something like, 'Which house would you choose?' and there will be dozens of pictures of different houses. All the children love the You Choose books and the books really widen the children's imagination.
Then she moved onto a flap book. There was a page where the children had to pick a flap, and if under the flap there was a picture of 'yummy' food they had to put their thumbs up, and if it was 'yucky' food under the flap, they had to put their thumbs down.
Pippa ended with a book about a boy spreading happiness. This was such a nice event to watch. Thank you Pippa Goodhart!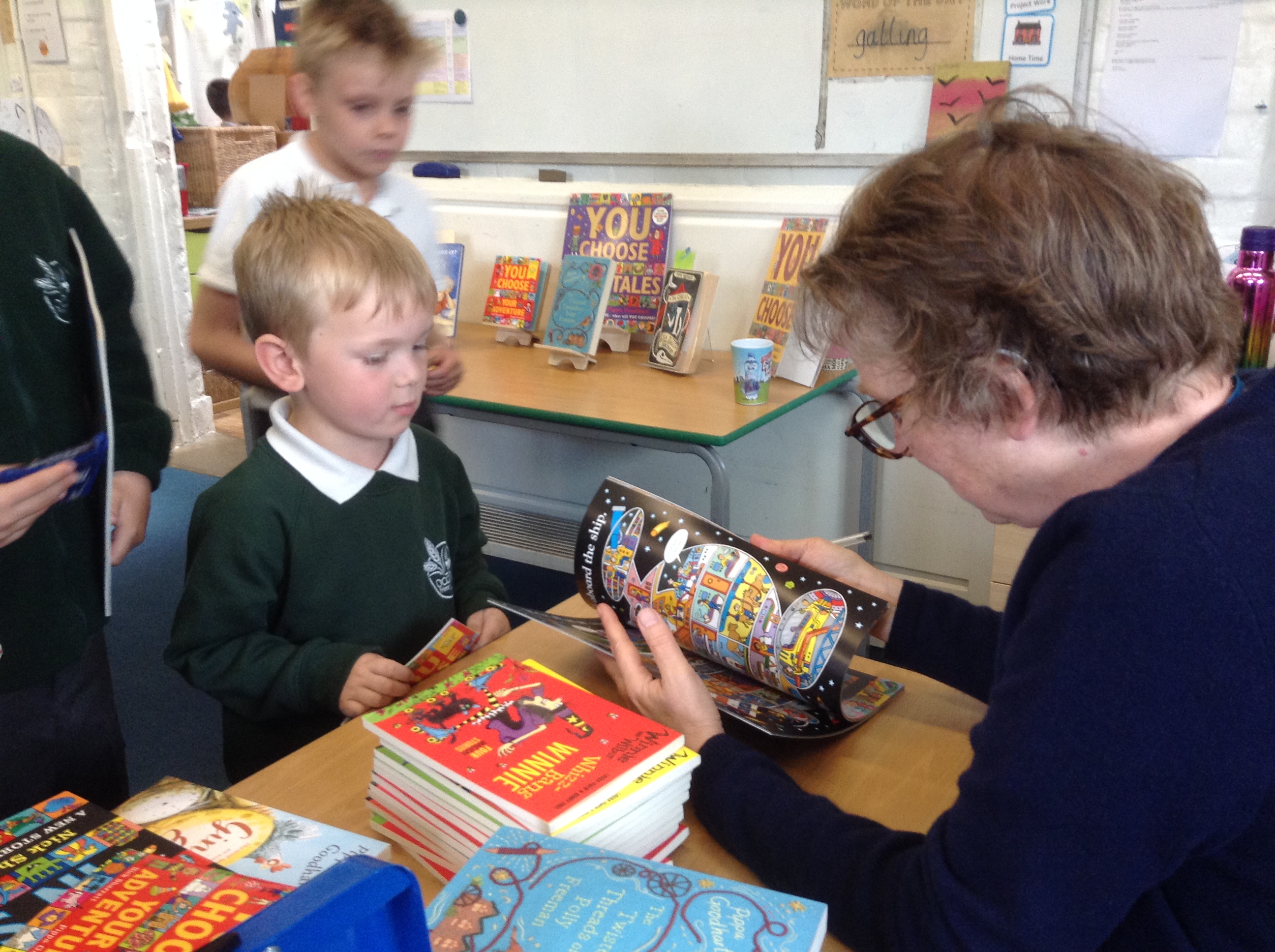 Book Mastermind Finals
Reporter: Alice Baynes
The people in this year's Book Mastermind finals are; Alina, Esther, Louis, Raffy, Jasper, Jack, George, Nova, Henry and Walter.
Altogether there were 20 questions for each competitor.
First up was Louis (Year 6), who read The Buried Crown. Louis did really well for going up first. He was followed by: Walter (Year 2), reading The Finger Eater, Alina (Year 6), reading The Lion, The Witch, The Wardrobe, George (Year 3), reading The Unlucky Eleven, Jack (Year 4), reading Dragon Training, Esther (Year 6), reading The Bad Beginning, Henry (Year 2), reading Algy's Amazing Adventures in the Jungle, Raffy (Year 5), reading Skulduggery Pleasant, Nova (Year 3), reading Wiggles Bottom Primary, Jasper (Year 4), reading Swoopie Mischief.
Now the winner of the Book Mastermind… Jasper! With all 20 questions correct!
There were 3 runner ups that all got 17/20!
They are…
.Esther
.Nova
.Henry
Here is a report from a Book Mastermind finalist and member of the Media Team, Alina.
As a Book Mastermind competitor, at the final round, the nerves can really get to you when you're being called onto the stage but as you get the questions read to you, you start to feel calmer and more relaxed.
The key is to read the book you chose over and over again. And if there's people at home to test you, or friends, that can really help.
Everyone did amazingly well and even just giving the first round ago is a very brave thing to do.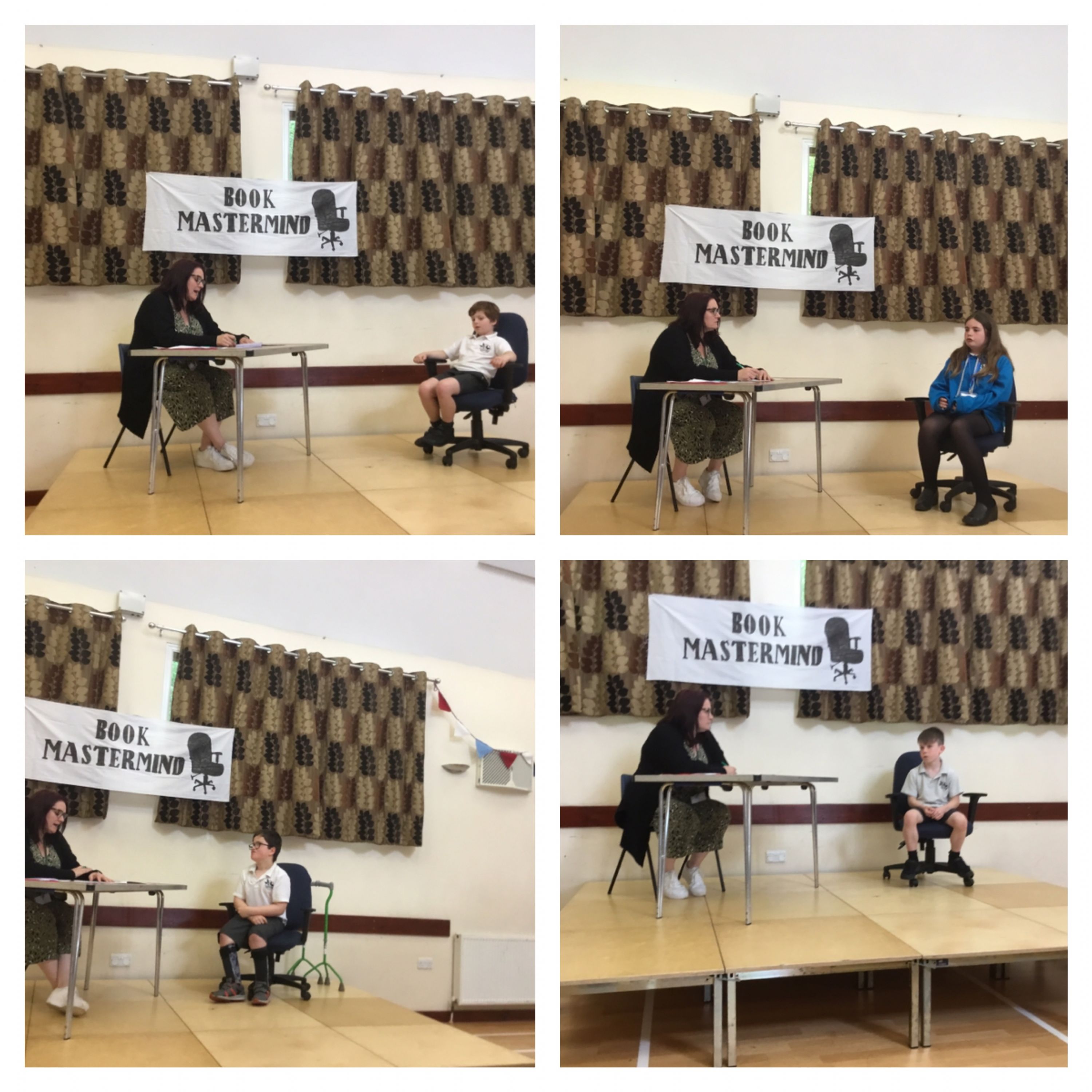 Making our own 'You Choose' book
Reporters: Esther Howard and Amber Webb
Following our whole school assembly, Each class went to do a project about one of Pippa's books, "You Choose". Each child and adult in the school made a page in the Occold "You choose" Book. Everybody has a starting question that they can answer using the pictures. e.g. You Choose…. Food or You choose your transport!
The illustrations are very big and colourful in the Pippa Goodhart's "You Choose" books, everybody has taken care to make their own illustrations like Nick Sharratt's (Illustrator of "You choose") They have filled the paper with wonderful options and illustrations! They Look Brilliant!
This is How mostly everyone made their illustrations… (You can make a "You choose" Book too!)
They do some drawings and they outline it in black sharpie pen, after they have completed the pencil sketch/drawing (They do this first as it will make the drawing nice and neat and crisp). After colouring it in, they are making the character's details and are thinking about what else to put on their paper.
All of the pages of the "You Choose" book look really good and we can't wait to see the finished result!
Wednesday 24th May
Brian Wildsmith Workshop
Reporter: Esther Howard
On Wednesday morning, Rabbit, Hedgehog and Otter classes went over to the Burrow and looked at Brian Wildsmith's illustrations. Brian Wildsmith was an illustrator for children's books. He has drawn and written 53 books and here are a few of his books…
The cat on the Mat, Giddy up! And Bear's Adventure.
Miss Jeni talked about Brian Wildsmith's illustrations with the children. Unfortunately, Brian Wildsmith died in 2016 so could not be with us but everybody had a great time anyway!
Some of the books they looked at were pop-up books and one of them was called "Apple and Bird".
They said that that book is very good and they enjoyed reading it. One of the tasks was to colour and draw birds and fish in the style of Brian Wildsmith. They coloured their drawings with oil pastels. They also created a giant sun with pieces of cut up magazine articles. They cut the magazine scraps into triangles and they used the triangles to go around the circle shaped for the sun as the rays (rays of sunshine!)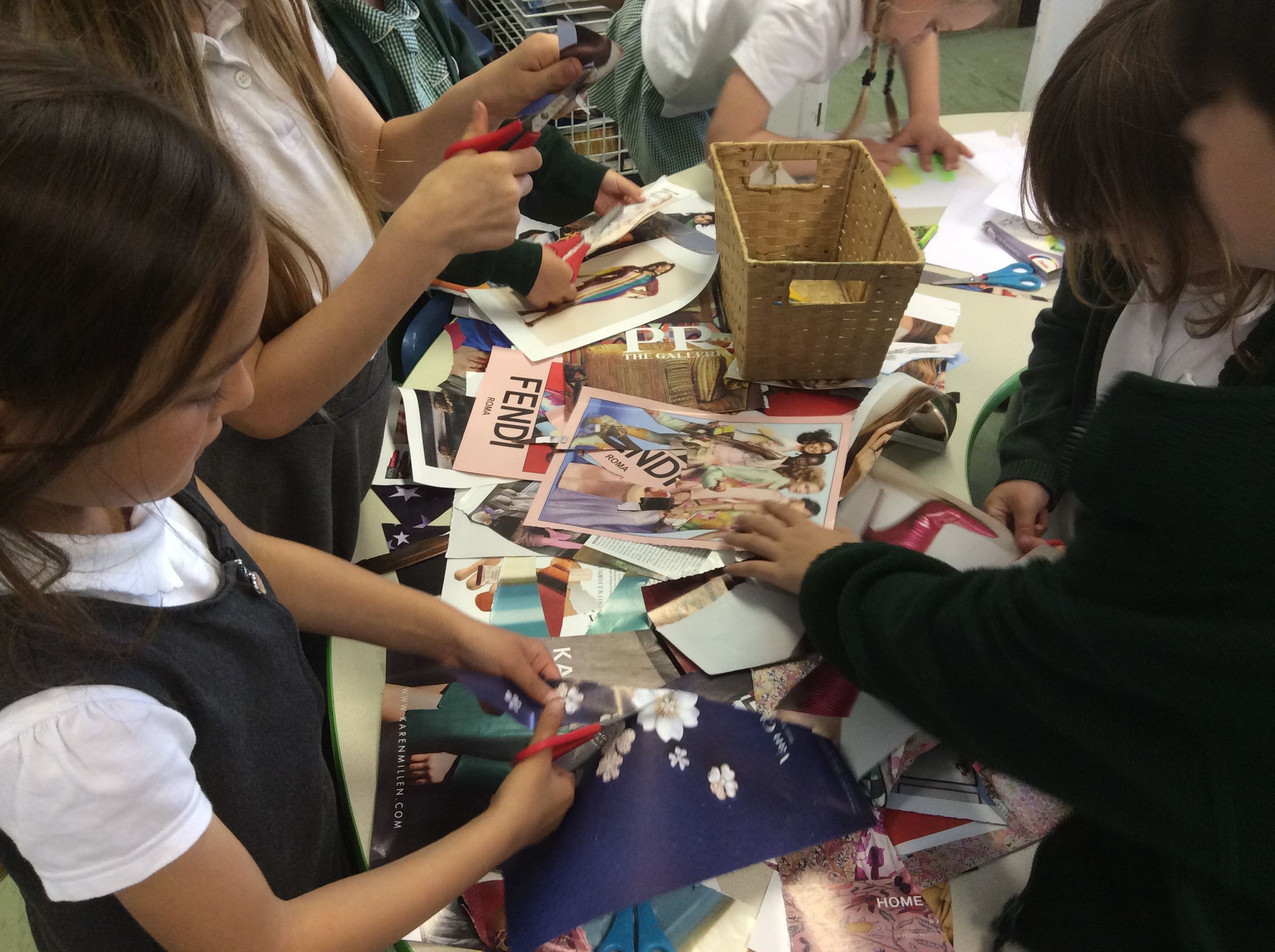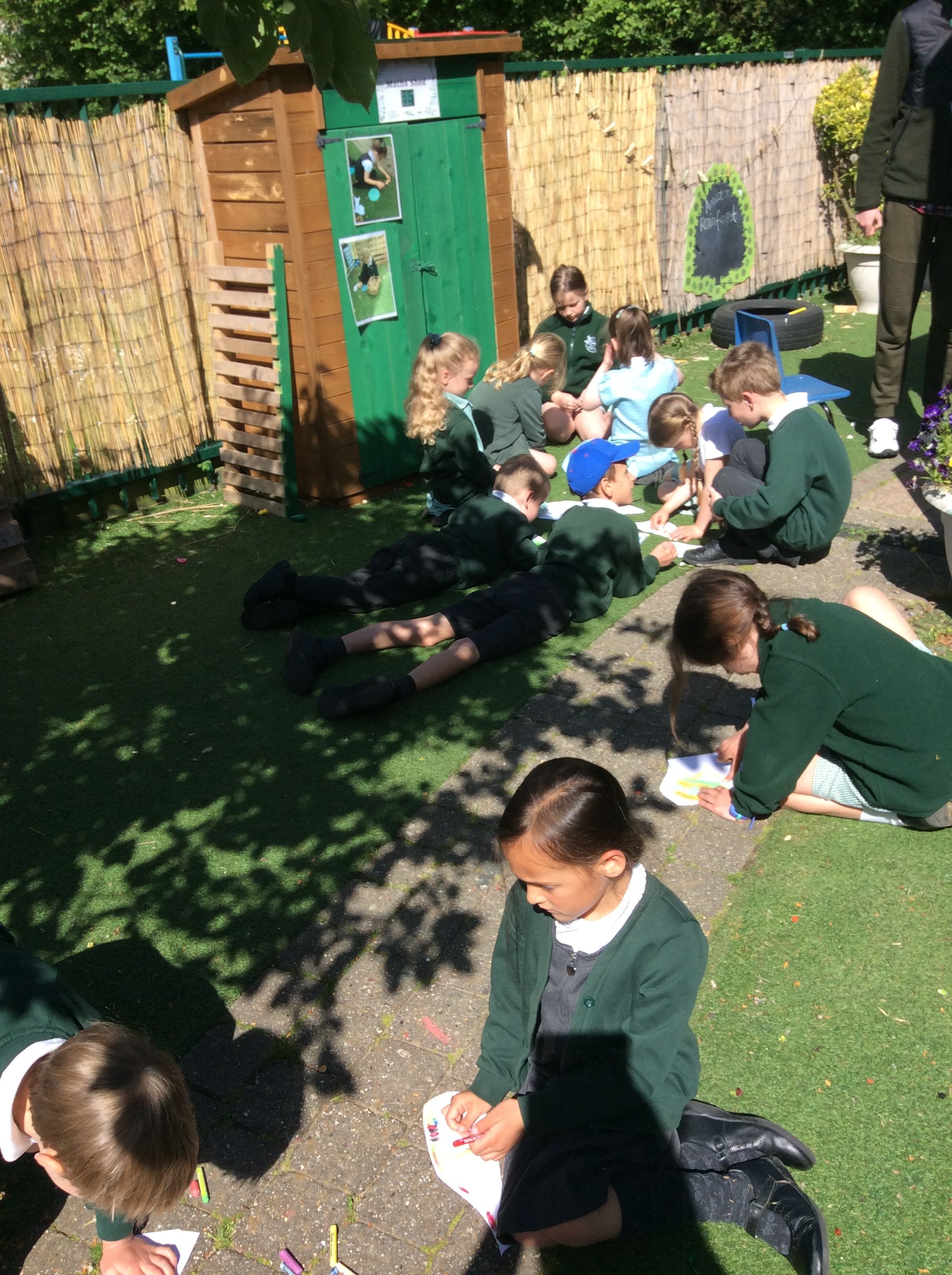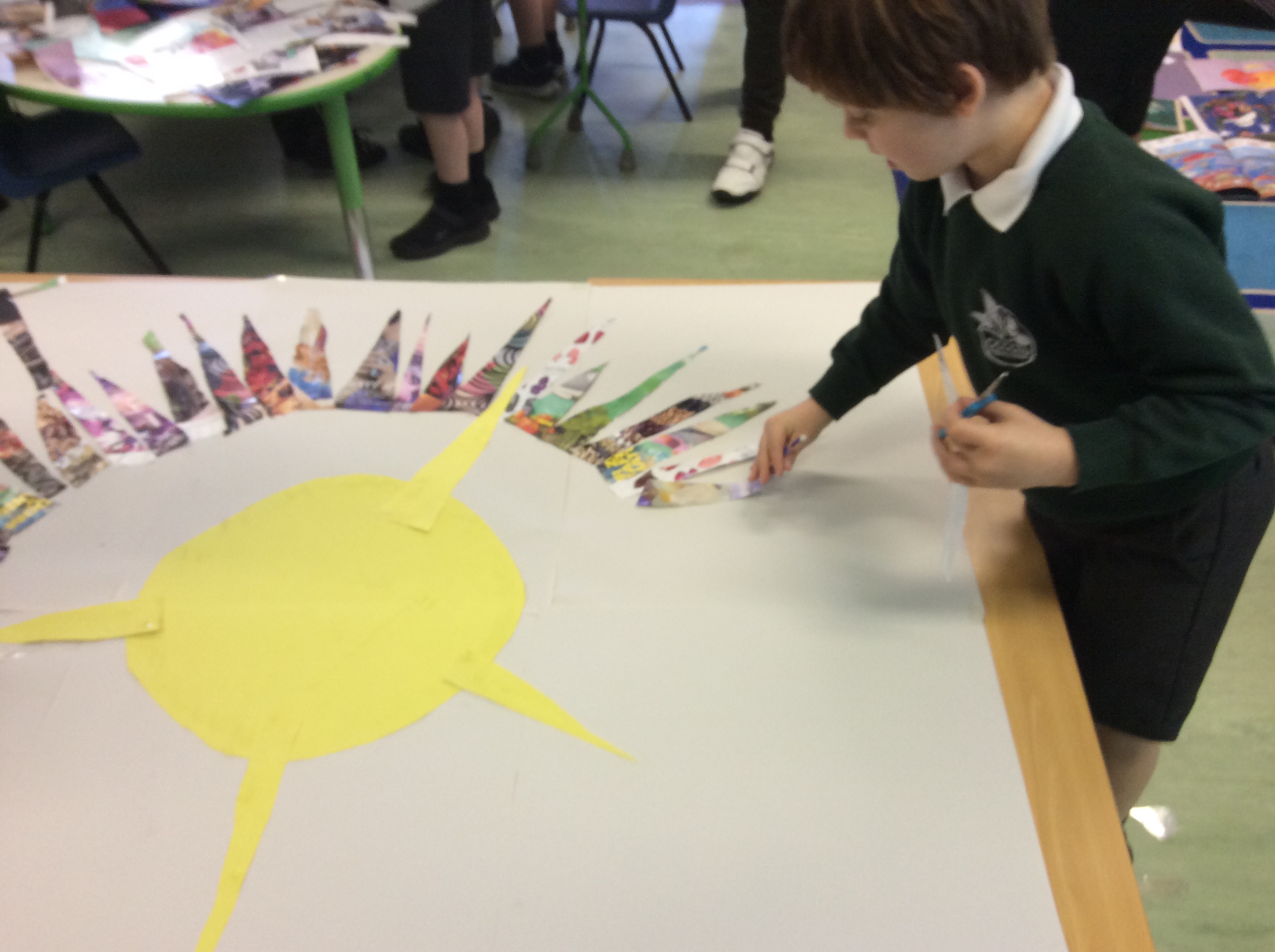 Elephant and Piggie Party
Reporter: Alina Voloshina-Suggate
I got to Fox Class a little bit early to see the Elephant and Piggie party being set up. The Logistics Team were blowing up and tieing pink and grey balloons (but that took quite a while) and hanging up streamers. The Refreshments Team were laying out the table where the snacks were placed. There were pink wafers, party rings and Percy Pigs!
Once everyone gathered in Fox Class, we got handed balls. We were all very confused as we had no idea what we were going to do with them. Then Elephant and Piggie hopped into the room! Everyone was so excited! They proceeded to recreate one of the Elephant and Piggie books! And it included Snake! The book is called, Can I play too? We had to throw our balls at the stage as part of the performance.
There were some activities to do as well. You could make a badge (Elephant and Piggie themed) or do some doodling! (Again Elephant and Piggie themed.)
The party was so much fun!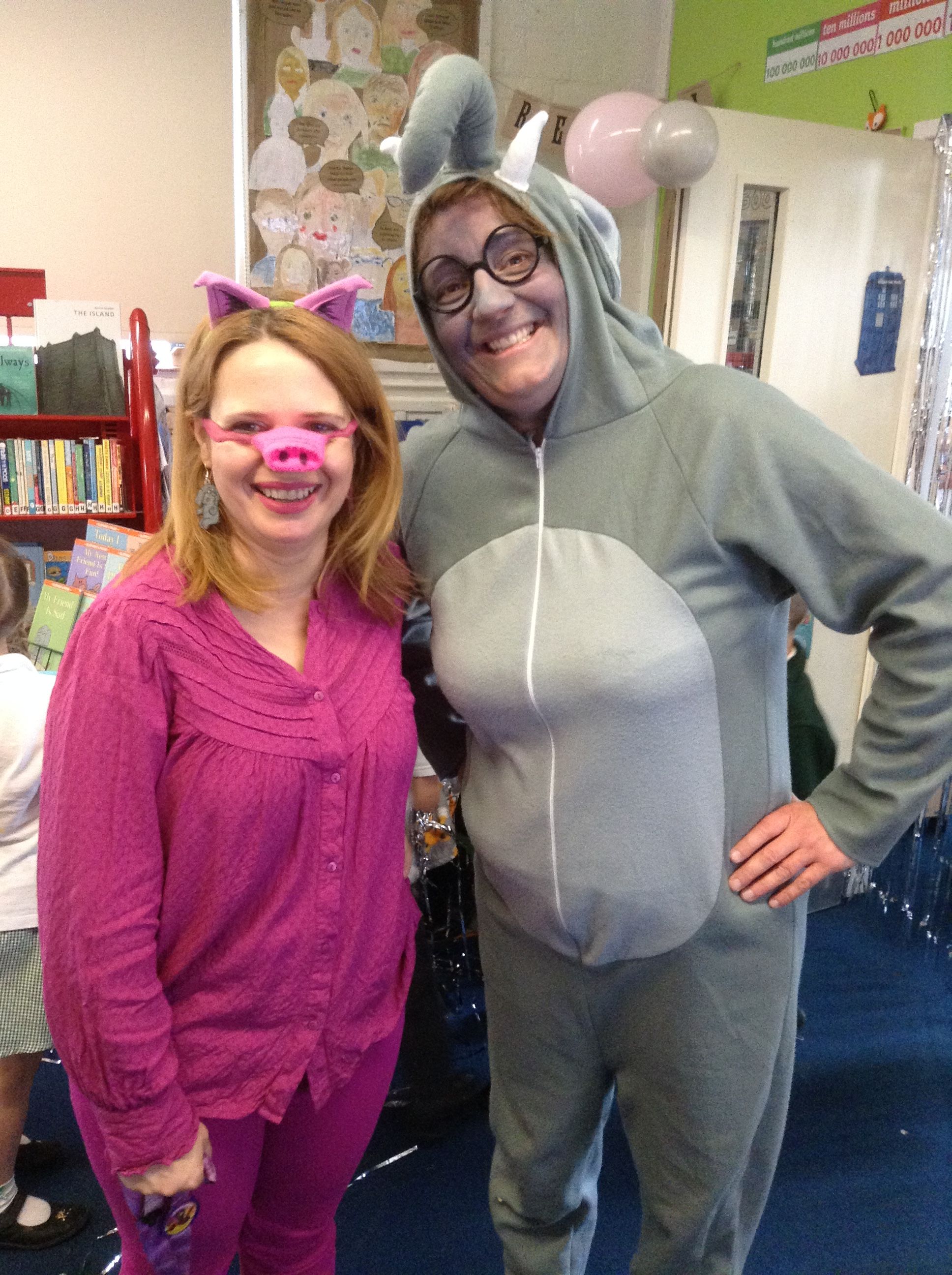 Read-a-thon and Second Hand Book Sale
Reporters: Esther Howard and Alina Voloshina-Suggate
On Wednesday, all the children met on the field to read. Friends and family were invited to enjoy the time too!
Children could bring a book that they are reading in school and get an opportunity to read a couple of chapters!
There was also a mobile library there which held some books to read too. Its content changes every lunchtime break!
Miss Jeni's Writing Teepee now becomes the Reading Teepee as this afternoon is all about reading!
We can see some happy faces reading books! Let's have a look at what some people are reading…
Let's see what some people are reading!...
George is wondering what to read. Between "The owl that was Afraid of the Dark" and "Charlie and the Chocolate Factory!" - very good choices!
Willow has got one of the "You Choose" Books by Pippa Goodhart.
Nova, Bella, Lola, Talia and Daisy are reading some of their books from school and are also reading "Veg Patch Party" which is from the "Kitchen Disco" series!
Carol Peters is holding "Brown Bear, Brown Bear" book with Walter.
And there's… Ginny and her Mum reading peacefully in the willows.
Alex, Otis, Harry, Alf, Charlie R and James are sitting and reading one of Louis's "Dave the doughnut" books and the "Narwhal and Jelly" series by Ben Clanton.
Someone in Fox Class is reading "After" By Morris Gleitzman. It's Part of the "Once" Series (set in World War Two).
Set out on the grass are some "Piggie and Elephant" books (By Mo Willems) - they are Occold's Favourite books!
In and around the mobile library are some other longer books… They are…
Beast Quest, Adam Blade

Farmer Duck, Martin Waddell

Claude, Alex. T. Smith

You choose in space, Pippa Goodhart

You choose fairytales, Pippa Goodhart
If you are looking for something to read, We have plenty of recommendations for you...
Recommendations for younger readers…
Tidy, Emily Gravett

You Choose books, Pippa Goodhart

Augustus and his smile, Catherine Rayner

Charlie and Lola, Lauren Child

Farmer Duck, Martin Waddell

The Very Hungry Caterpillar, Eric Carle

The gruffalo, Julia Donaldson

The tale of Peter Rabbit, Beatrix Potter

The day the Crayons Quit, Drew Daywalt

Green eggs and ham, Dr. Seuss
Books for older readers…
Matilda, Roald Dahl

Wonder, R.J Palacio

A Christmas Carol, Charles Dickens

Peter pan, James Matthew Barrie

The wind in the willows, Kenneth Grahame

The Hobbit, JRR Tolkien

Ruby Holler, Sharon Creech
The Book Sale was on the field. It was joined with the Read-a-thon so you could buy a book then read it on the field with your friends and family. Each book was 50p and all together we sold 81 books and we made £40.50!
There were lots of books for different age groups which was good so everyone in the school had a choice of books suitable for their age level.
Thank you to everyone who donated books!
Thursday 25th May
Storyteller and Illustrator Paul Jackson
Reporters: Alice Baynes, Alina Voloshina-Suggate and Amber Webb
Paul Jackson is a storyteller and illustrator, he has been a storyteller for 30 years. He became a storyteller because he is dyslexic and struggles to read and write.
The first thing we saw was lots of different books and objects. Paul displayed them on a table, and it turned out that he, Paul Jackson, actually illustrated those books, and made those sculptures. There were some paintings as well (his paintings) and these unique instruments. One of them looked like a guitar, but was actually a kora. A kora is a stringed instrument with 21 strings! He also had a mouth harp and a sound bowl.
He told us a short story about his time at school. He was in the bottom class in all his classes apart from art. He would always stare at the blackboard and not understand anything. Then one day, he was in art class, and his teacher realised he couldn't do anything apart from drawing. So his teacher pulled him aside and told him to pick someone. Paul picked one of his friends and the teacher said draw her. So Paul did. He drew his friend and the teacher looked over his shoulder and said, 'Wow.' Then after that Paul started to draw. He drew a map of a magical world that didn't exist and he really wanted to write a story about it, but he couldn't. He really tried but he couldn't. His dyslexia stopped him, no matter how hard he tried, so he sculpted it. Paul started to show his sculptures to people and they loved them. So people started asking him for stories to go with the sculptures, and as Paul had tried before, but he couldn't because of his dyslexia, he tried telling stories. And that's what he did, he told stories. Soon after that he started drawing more and more and more. Now he illustrates books for Rosie Andersen and others as well. He released his own book, The Hidden Destiny, in 2022.
Paul showed us some of his artwork that he did on his Ipad. It was amazing! It was so detailed. He did it on an app called Procreate.
Otter Class enjoyed hearing a story about a boy who ate a dragon pearl and turned into a dragon. Everyone was mesmerised by Paul's performance.
Some children in school got to have a go at playing Paul's instruments which was really fun!
Find out more about Paul on his website:
http://www.pauljacksonstory.com/
Thank you Paul Jackson!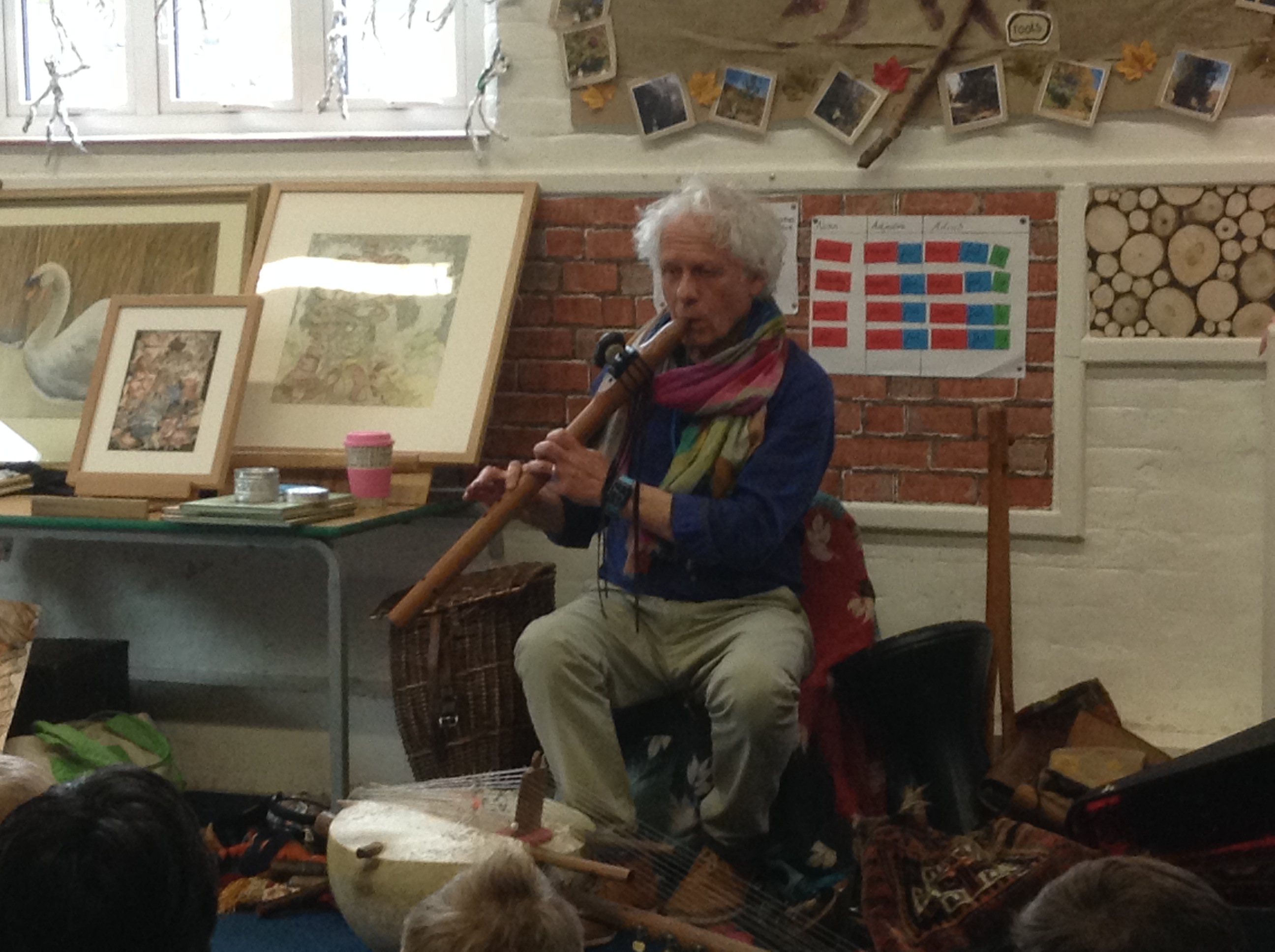 Stories from the Mouth
Reporter: Alina Voloshina-Suggate
Miss Jeni started off by telling us a story of an emperor that wouldn't let his daughter marry. So he made a deal that if any suitor could tell him (the emperor) a story that made him say 'that's not true' then that suitor could marry his daughter. Lots of suitors came but they couldn't do it. Until one normal man came and he used a special tactic and it worked! Then we learnt about telling 'tall tales' or lies! Miss Jeni made us make up excuses why we were late to school. Everyone's answers were so imaginative and different! We worked put in pairs and one person had to ask 7 questions about their story and if the person asking questions got the other person to say 'I don't know' then that person won.
Then after break, Miss Jeni told us another story, a longer one. After the story, we were put into groups of 3 and had to retell the story again. Then we got put in bigger groups and we made 3 freeze frames of 3 key moments in the story.
We had so much fun! Thank you Miss Jeni!
Friday 26th May
Bookmark Competition
The winners of this year's bookmark competition are...
Rabbit Class - Ginny
Hedgehog Class - Walter
Otter Class - Alf
Fox Class - Trixie
Congratulations, copies of your beautiful designs will be available in the library for everybody to use and enjoy.
Reading Café and Diss Publishing
Reporters: Esther Howard and Amber Webb
For the last event of the week, Diss Publishing Bookshop and a reading café have come to Occold Primary School. They have arrived with a great deal of books!
Here are some of the books that are on offer to purchase today...
Sail By Dorien Brouwers, Skandar and the Phantom Rider By A.F. Steadman, I want my hat back by Jon Klassen, You choose by Pippa Goodhart and Grandpa's great Escape by David Walliams!
There is also a reading cafe being run by the Refreshments Team and Friends of the School with cakes and drinks - yum yum!
At the reading café, all of the cakes and drinks are 50p and I can say that all of the cakes taste yummy! The cake sale is being held in Otter Classroom and you can buy a book and read it in Otter classroom.
What a great way to close this year's Book Festival. It's been a fantastic week!